Spreading love one meal at a time.
Jaden launched I Love You Restaurant on his 21st birthday on July 7, 2019.
I Love You Restaraunt is a nonprofit initiative of Jaden Smith and the Will and Jada Smith Family Foundation. The mission of I Love You Restaurant is to spread love to communities experiencing food and housing insecurity by offering sustainable water and fresh, high-quality, and delicious vegan meals. To truly nourish the heart, mind, and body, we will support and create future initiatives that address the causes of food and housing insecurity.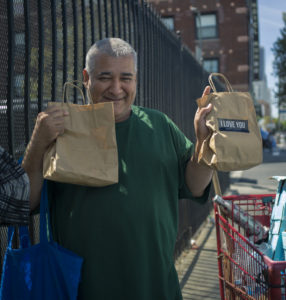 Food insecurity in Los Angeles
1 in 5 people who live in Los Angeles may not know where their next meal is coming from (source). While the most visible examples of food insecurity are fixed-income seniors, people with disabilities, and working-class families who don't meet eligibility requirements for assistance, hunger doesn't stop there:
1,429,000 adults and 573,000 children experience food insecurity
The living wage required to meet basic needs in LA is $80,000 to $85,000 but according to estimates released last month by the U.S. Department of Housing and Urban Development, the median family income in LA County is now $69,300.
According to 2011 study, nearly 1 million people live in a food desert in Los Angeles (source)
According to the Los Angeles Homeless Services Authority, in 2019, approximately 50,000 to 60,000 persons may be found homeless on any given night in Los Angeles County, more than 44,000 of them are unsheltered and on the streets.
3 out of 4 people experiencing homelessness remain unsheltered (source)
Los Angeles, and beyond
According to the US Department of Agriculture, an estimated 1 in 8 Americans were food insecure in 2017 alone, equating to 40 million Americans including more than 12 million children. Stay tuned for updates on the I Love You Restaraunt truck's locations both within Los Angeles and beyond by following WJSFF and I Love You Restaraunt on Instagram.
How to help
I Love You Restaurant is coming soon to Patreon. Stay tuned on Instagram